MahalaYoga - Workshops


Yin yoga with essential oils Sunday Workshop
Date - Sunday 15th April
Time - 2.45pm - 4.30pm
Venue - Plough Studios, Unit 4 & 5, 9 Park Hill, Clapham, SW4 9NS
After the success of our first restorative sold out workshop we are pleased to announce there will be another one held in April...
The focus for this month...
Energy
Capture the Rejuvenation of Spring
To cleanse the body, mind and spirit making room for the new, using doTERRA essential oils such as Lime for its ability to cleanse the heart of emotional toxins combined with some deeply relaxing restorative yin twist yoga poses gently guiding the body to move out what is no longer needed.
Geranium will also be used, this is a gentle oil chosen to assist the mind, body and spirit to trust the process and assisting.
This detoxifying workshop creates a deep spring clean, that will leave you feeling rejuvenated from the inside out.
We will use blocks, belts, bolsters and blankets to support your body so that you can go a lot deeper in this practice, calm your mind, relax and restore equilibrium....
All combined with Beautiful long held yin yoga poses, focus on the breath will allow your body and mind to open and release to a very deep, relaxed level.
Other oils that will be used in this Sunday soul sessions workshop...
Peppermint and Wild Orange - Clears the mind, very up lifting
Cedarwood - Very grounding and great for focus, promotes circulation and helps the body to remove toxins
Rosemary - Stimulates memory recall, aids in times of transition, brings expansion to the mind.
Deep Blue Blend - The oil of surrender and great for muscular aces and pains
...homemade organic chocolates, dessert, infused water with doTERRA oils for you to enjoy at the end of the session
Here is what some people had to say about our last workshop...
"a lovely way to spend an afternoon - interesting informative enlightening and fun as classes with Mahala always are!"
"I was totally knocked out by the deep blue oil. The water too - zen gest - Totally satisfying cleansing and calmed my usual appetite. Just felt so relaxed so thank you again for sharing"
"The best thing I've done for myself for a long while, it was a treat…I was blissed out… The workshop was calming, comforting and well supported.It started on a high note with delicious doTERRA drinks and chocolate, then we settled into languorous, long-held, poses, stretched into glimpses of eternity and soothed over by helping hands of Mahala and her lovely familiars. Transported by the sound of the equal tempered scale … and of a crystal ball. Can't wait till the next one!."
For each participant, at the end of the workshop you will also have the chance to experience a free sample of one of these oils, let me know in advance if you would like support around any of the following...
Sleep
Anxiety
Sress
Pain (muscular, headaches, arthritic)
Digestive Issues
Respiritory
and I will give you a personalized sample
To book...Early bird - £20 Follow this link to reserve your place
http://paypal.me/mahalawall/20
Or a very Special offer, two people for £30...Follow this link...
https://www.paypal.me/mahalawall/30

On the day - you can pay £25 on the door (subject to availability)
Mahala x
email - info@yogaclapham.com for bookings or any other enquiries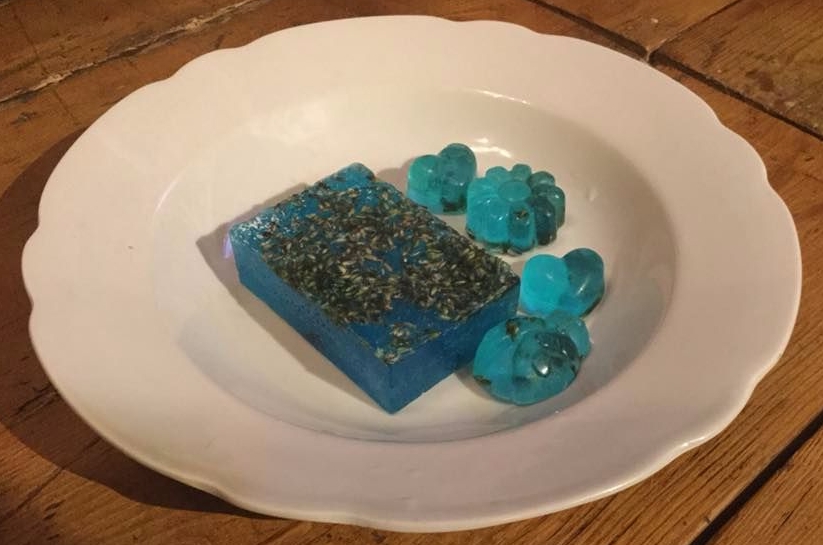 doTERRA Handmade soap workshop
Saturday 7th April 2018
12 - 1.30pm
at our home studio (address given on booking)
Using doTERRA oils combined with natural SLS free soap base and beautiful Organic lavender to make and take away with you a beautiful home made soap your body will love.
As Im sure you know Natural oils were used in ancient times, such as Ancient Egypt, we are remembering again now the potency of these essential oils, and how we can bring them back into our daily lives to live with less chemicals.

The Melt and Pour Soap Base we will use in this workshop is natural :

Contains no Sodium Lauryl Sulfate
Vegetable based
Excellent transparency
Good foaming
Moisturising properties and smooth skin feel as a result of high glycerin content
Neutral odour provides excellent fragrance lift.
The Cost - £10
To include making the soap, you get to take home with you.
Beautiful organic lunch.
To book email info@yogaclapham.com or you can follow this link to make your payment to reserve your place