I am feeling very inspired, just before Christmas I gave up eating meat, for no reason in particular, my body just didnt want it any more, so from here I have now been lead to look at other ways of eating ~
each week I am going to try a new recipe and I will share it with you here, maybe in the thought of inspiring you too ~
I must say that since I have stopped eating meat my whole body feels amazing, I seem to be able to feel more, my muscles feel really lean, my yoga practice has come on leaps and bounds, when I look at animals now that I see in the fields like Cows or Sheep or Pigs, it is like I am seeing them for the first time, with clear eyes as well as a clear conscience ~ before I would look at them and I could never get too close as in the back of my mind I would always be thinking…I eat you
(((
A Kashmiri-style Version of The Classic Cauliflower and Potato Curry
This lovely mellow curry is quite easy to make – steaming the potato and part-steaming the cauliflower makes it quicker and also reduces the amount of oil. Just get all the ingredients out before you start cooking and go for it!
Omit the cashew garnish for a nut-free option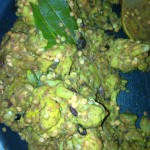 Serves:
4-6 depending on what else is served with it
Gluten free
No nuts
No sesame
No soya
Reduced sugar
Ingredients:
3 medium potatoes, peeled and chopped into medium-small pieces
1 large onion
4 garlic cloves
5cm/2 inch piece ginger, peeled and grated
3 medium tomatoes
3 tbsp oil, plain
1 large cauliflower, broken into florets
1 tsp turmeric
½ -1 tsp cayenne pepper, according to taste
1 tsp ground cinnamon
½ tsp ground cloves
1 tsp ground cardamom seeds
4 bay leaves
1 tsp sugar or 2 tsp agave syrup
1 tsp salt
Garnish
30g/1oz roasted cashews
30g/1oz raisins
Method:
1. Steam the potatoes for 10-15 minutes, until tender but not mushy.
2. Add the cauliflower pieces to the steamer about 5 minutes before the end – you want to just tenderise the cauliflower, not cook it completely.
3. Blend the onion, garlic, ginger and tomatoes until they form a purée.
4. Heat the oil in a large heavy-bottomed saucepan and sauté the cauliflower until it starts to brown and is tender. Remove it from the pan and set aside.
5. Using the same saucepan, fry the tomato/ginger/garlic purée with the turmeric and cayenne for a minute or two. Add the rest of the ingredients and cook in for a few seconds, stirring well.
6. Return the cauliflower plus the potatoes to this mixture and stir gently, ensuring everything is well-coated in the mixture and heated through properly.
7. Garnish with the cashews and raisins. Serve with rice and/or chapattis