Creamy Chia Pudding...
Posted on
I am thinking of different ways I can eat more fruit and still enjoy the greatness of puddings!
I came across this amazing pudding, so quick and easy to make, it tastes like heaven ~ there is not one bad thing in here, nothing but freshness and healthiness!!
An easy super food pudding. Chia seeds are packed full of healthy omega 3 fats and are a great source of soluble fibre to aid bowel health. This tropical flavoured sweet dessert makes a healthy treat and breakfast option.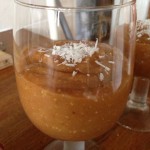 Ingredients
40g chia seeds
250ml Vanilla Rice Dream
1 ripe mango
Coconut flakes to garnish
Method
Place the mango in a food processor with the Rice Dream and process until smooth.
Pour in the chia seeds and leave to soak for 1 minutes. Process the pudding until smooth and thick.
Spoon into bowls or glasses and chill until required. Sprinkle with coconut flakes to serve.
Per serving:
Calories 205kcal
Protein 3.9g
Total carbohydrates 31.5g, of which sugars 5.6g,
Total fat 7.6g, of which saturates 0.7g
This will keep in the fridge for up to 3 days
I hope that you love this as much as I have, to add some more texture and flavour I added a Banana and some Cacao powder, just a sprinkling ~ it tasted fantastic and gave it an even creamier texture….Enjoy!
To see more recipes like this one follow this link ~
http://mydairyfreedream.com/recipes/vegan/desserts/creamy-chia-pudding