yoga Teacher Training London
Posted on
I'm discovering and learning more and more as I continue on this path of facilitating yoga teacher training, I am now coming into the 4th year of doing this and the results I am seeing in people are beyond all of my wildest expectations!.
I first put together a yoga teacher training program as I felt very passionate about the standards of yoga teacher training courses, I put together the type of course I would have been looking for.
I now hold the training sessions at my home in Mitcham and really work with people either on a one to one basis or in a group no bigger than 5 students.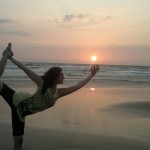 As the training is so small there is plenty or room, time and space to go into all of the details, I work with each student as an individual.
The teacher training program that I run can also be similar to life coaching, in the way that we cover all aspects the student wishes to.
I'm now having a break over the summer as my Daughter is on her summer holidays, I'm still talking bookings for trainings that will be due to start in September, but for now this is a deep time for reflection and contemplation, I will be teaching at loads of great festivals over the summer, a great opportunity to get out I to nature and connect.
You can still go along to our classes in Clapham, Brixton and New Malden and meet some of the students who I have trained, they are now running fabulous classes, that I also enjoy attending as a student.
I myself will still be teaching some of these classes over the summer.
I very much look forward to continuing this journey and meeting you as you continue along your journey!.
Aho
Mahala ❤️💓💞💕💖